+++ EXCLUSIVE CPAHERO DISCOUNT FOR ARGO CONTENT THE INDUSTRY LEADING SEO WEBSITE AND AUTO BLOG GENERATOR! +++
"The tool loved by professional SEO's and internet marketers around the globe! Everyone knows this simple fact: the more sites you got, the more traffic you receive and the more traffic, the more sales you get. If you are making money online with advertisement in any form, then this tool is for you. Build private networks (PBNs), Affiliate websites, MFA, Doorway, Landing pages and much more - all fully automated! You can create content rich websites with thousands of pages in literally seconds. promote products faster and easier than ever before."
THERE IS NO OTHER SOFTWARE ON THE MARKET THAT HAS THE SAME FEATURES, THIS IS ONE OF A KIND!
The application can be used to create:
- Direct money pages to promote affiliate or own products
- MFA sites for adsense or other PPC/PPV programs
- PBN's: Private blog networks to increase ranking of other websites
- Doorways or Landing pages
- Spiderfood for cloaking
- Promotional blogs for product advertisement
- Huge site networks to generate traffic
..and lots of other methods all related to SEO and internet marketing!
NEW! Auto Spinning in English, Russian, German, Spanish, Dutch and Polish (more to come) WITHOUT ANY EXTERNAL SERVICES!
Turn text into spintax fully synonymized. With the included Advanced Article Scraper you can easily clean and auto spin scraped text with the push of a button!
---------------------------------------------------
LINK: https://argo-content.com
---------------------------------------------------
Instant activation after payment has been received 24/7 !
No subscription, one time fee only!!
WEBSITE GENERATOR FEATURES
- Content Generation
- Markov Chains
- Exclusive Pseudo Markov for more readability
- Thesaurus Synonymization for almost any language
- Additional custom User created Thesaurus support
- Nested Spintax
- Randomized Interlinking
- Keyword Permutation
- Smart backlinks distribution within the text
- Comes with over 30 ready to use themes
- Easily use any existing Theme or Website Template
- Dynamic placeholder system
- Create Sitemaps (HTML and Google Sitemap) and RSS feeds
- GEO data with Google Maps integration and KML file creation
- Professional Website Scraper with xpath and regex support
- Google Text and Youtube Video Scraper
- Auto generate complete CSS design
- Randomized and controlled Keyword distribution within titles and text
- Add selected pictures,videos or code randomly into content
- Upload generated sites directly to your server
- Mass XML-RPC Pinger
+ much more!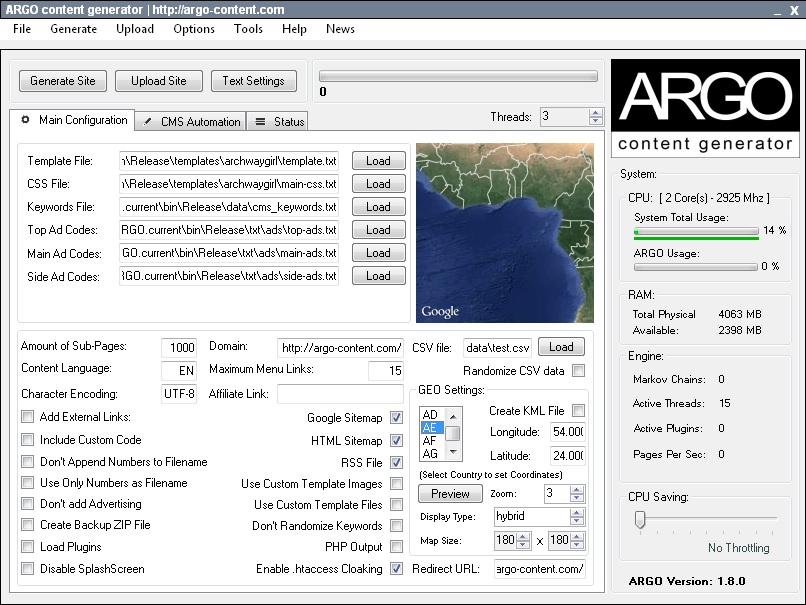 WORDPRESS AUTO BLOGGING ON STEROIDS!
With this software you can also fully automate the creation of Wordpress blogs.
The program can install and configure Wordpress on your servers, install themes and plugins, create posts/pages/categories all on autopilot.
WORDPRESS AUTOMATION FEATURES
- Configure general settings, permalinks, widgets and themes
- Easily installs and activates new themes
- Create posts or pages
- Keywords and tags randomly selected from files
- Include images and video within posts or pages
- Automatic interlinking
- Automatic plugin installation from a list of plugins
- Automatic wordpress update on unlimited amount of wp-installs
- Automatic server side wordpress installation in < 1min
- Mass mode - posting to multiple sites at once
- Article mode - post articles to either a single blog or a list of blogs.
- Scheduler to create posts after a defined amount of time
- Scheduled timed posts in the future (no need to keep argo running)
- Automatically add code (affiliate banner, tracking code etc) into sidebar text widget
- Categories creation
- Optimized markov and spintax handling
- Automatic widget configuration and order
- HTTP Authentication (htaccess) support
+ much more!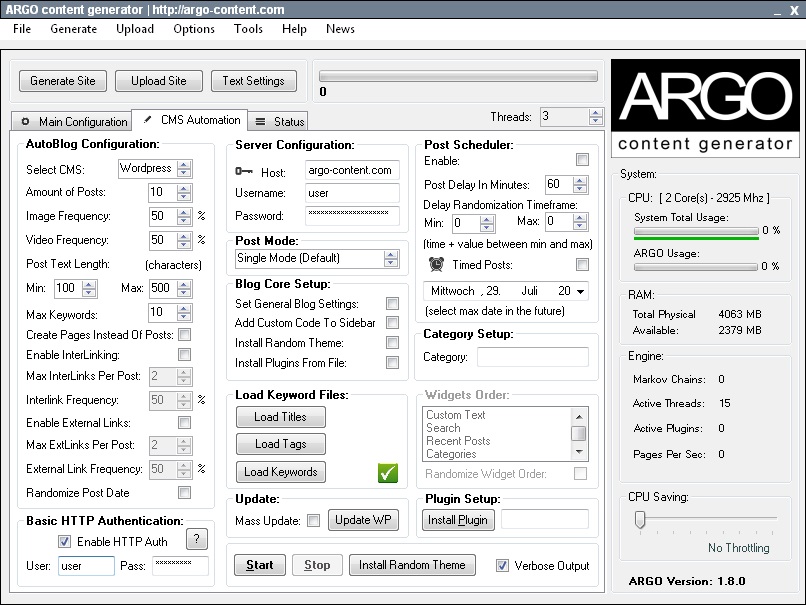 NEW! extensive plugin architecture, first few plugins are available here:
https://argo-content.com/plugins/
+++ UPDATE +++
We just released a new version with a state of the art Article scraper and AUTO SPINNER with INTERNAL synonym and phrase databases!
That means you
don't need any service like Spinnerchief or Word AI
, ARGO can scrape and turn articles into spintax easily. The scraper can gather articles and store them in an internal SQL database for later use (no need for an external database server, its all handled by a single application).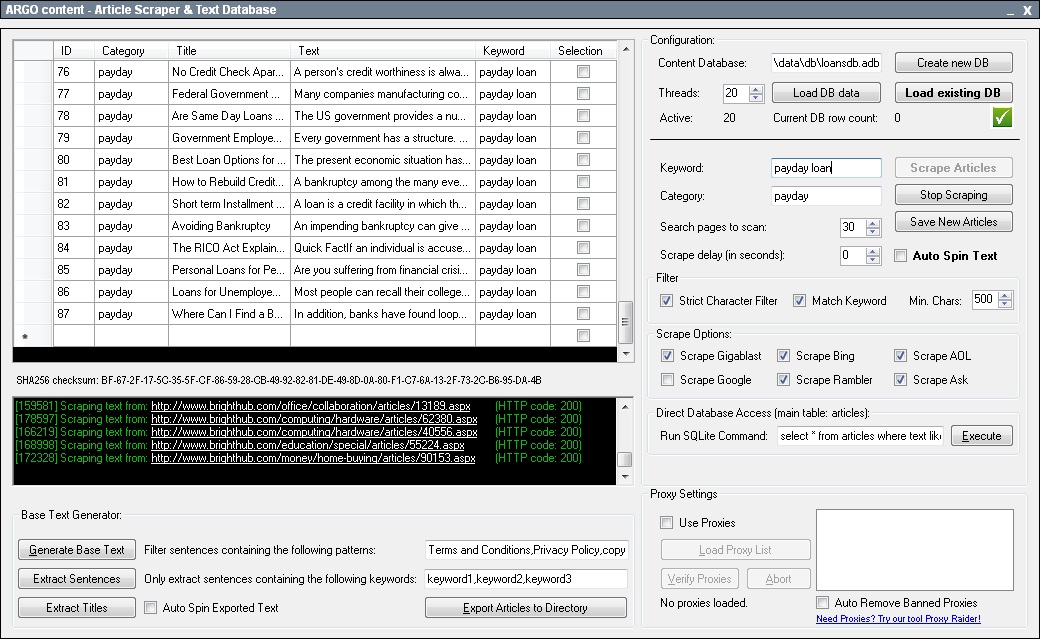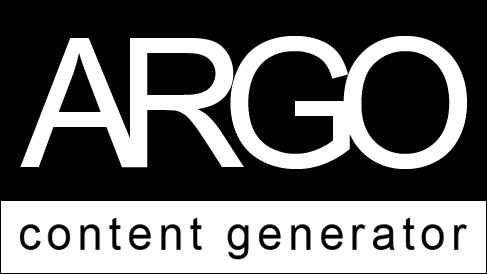 Only 229€ (+taxes) ONE TIME! (- 10% OFF if you use the discount code!)
Imagine how much money you can save from website building costs, spinning/article services/indexing and so on.
This SEO toolkit has so much features packed into one amazing tool.
You can easily make the money back
with affiliate commissions or PPC sites that you can create with this software!
As bonus you also get access to the private ARGO content user forum, where you can connect with other argo users and find extra downloads + tutorials and cases studies!
Try the award winning and most sophisticated website generator on the market today!
DEMO (based on old version 1.8 without scraper):
https://argo-content.com/demo/
Constantly developed since +8 years by a programmer with over 20 years experience, this is not your average SEO tool!
++++++++++++++++++++++++++++++++++++++++++++++++
Since it has a plugin architecture, there are some extra plugins like thisone that can be loaded into argo:
Easily add a CPA content locker to your sites. (can also be done without plugin of course for other CPA networks!)
[/align]
Some Reviews: https://argo-content.com/argo-content-reviews/